The Malaysian Minister of Telecommunications and Multimedia, H. E. Annuar Musa, present these days in Bucharest at the 21st edition of the Plenipotentiary Conference of the the International Telecommunication Union (ITU), gave an exclusive interview for ecopoliticnews.com. He referred to the international event held in the Capital of Romania and other important topics, including the prospects and expanding business relations between Malaysia and Romania.
Context: ITU is an intergovernmental organization, established more than 150 years ago, whose main objective is to coordinate the safe use of the radio spectrum at the global level, promote international cooperation in the assignment of satellite orbits, improve communications infrastructure in developing countries and establishing worldwide standards to encourage the seamless interconnection of a wide range of communications systems.
Iulian Ionescu: Mr. H. E. Annuar Musa, With what expectations did you come to this international conference, what goals do you have?
H. E. Annuar Musa: Well, actually Malaysia has been a member of ITU ever since we gained independence and we have been a very active member and of course this plenipotentiary conference is very important since Malaysia is offering to be part of the council again.
We have been a member of the council for more than 40 years. In 2014 we didn't make it and we have not been part of the council for the past 8 years, so the Malaysian delegation and also the Malaysian government hope that Malaysia will be given the opportunity to be back as council member so that's one of the important objectives, but as you know these international conferences of these nature are very important especially to get engagement with my counterparts.
This is a new portfolio, this particular conference related to telecommunication is my first. I've never attended an ITU conference before so I would like to take the opportunity to get to know my counterparts from other countries and also to exchange information and networking with other ministers from other countries for the benefit of telecommunication development and digitization in Malaysia.
How important is the information technology and telecommunications sector as a percentage of your country's GDP?
Is becoming more and more important, in fact very important. For that reason last years we launched a special blueprint to make sure we are on the right track, very focused, and at the moment digital economy contributes about 22.6% to our gross national product and we are aiming to increase further. Of course there are certain preconditions before we can achieve that level, we need to improve the telecommunication infrastructure, we have to prepare the right human resources, we must also have proper international link, trade and so on.
We have just launched what we call Malaysia digital and another agency under the supervision of my ministry and the Malaysia digital economic corporation. We have set a quite ambitious target of securing 70 billion investment for the next 3 years and for that reason we need to get engaged with so many other countries and also to make sure and know what are the priorities, what are the sectors that we would like to further promote, to make sure that digital economy becomes one of the most important segments in our economy.
We also launched a special policy to be more specific and more focused on what exactly needs to be done in the near future. This conference is something very important for Malaysian delegates and we already managed to engage so many people, the experts, the leadership, the ministers, and I think that this has been a very fruitful conference as far as Malaysia is concerned.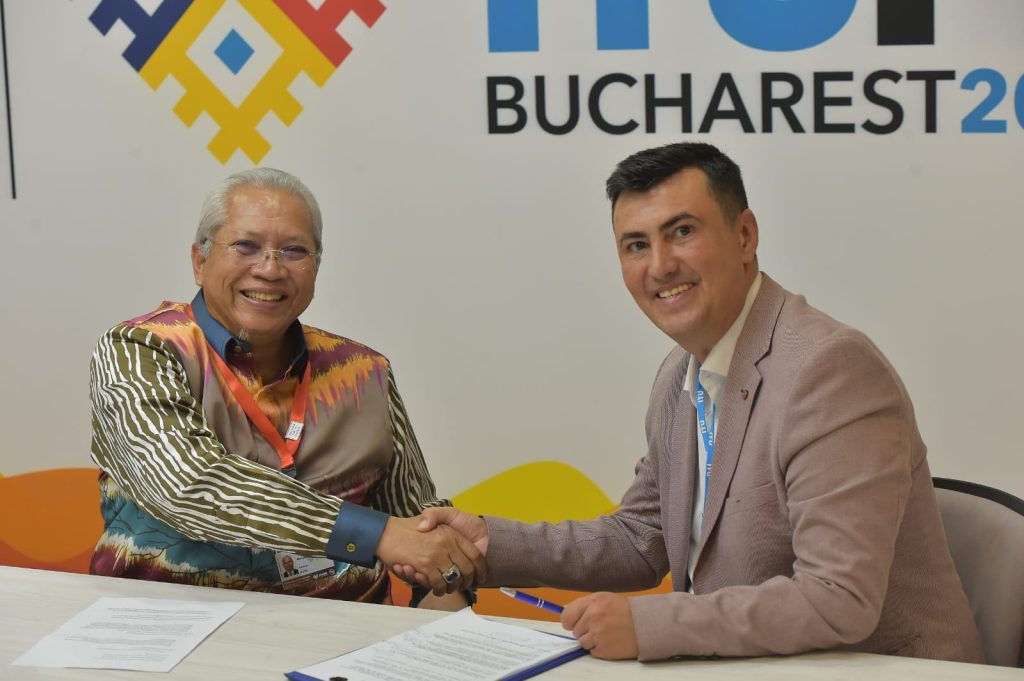 Do you have prospects for developing some business in Romania in the field of digitization and telecommunications?
I've met your ambassador in Malaysia, we spoke at length about prospects and expanding business relations between Malaysia and Romania. I think we have to strengthen the bilateral relationship between us and also to be more focused not only in term of telecommunication.
I think the prospect of making Romania the gateway to Europe is something that is worth looking into.
With Constanta port?
With Constanta port, exactly. Is nearer, faster and easier to go to the eastern Europe at least instead of all being dominated by the Turkish ports and there are also other areas regarding Malaysian export. Especially we are one of the leaders in term of microchips and semiconductors and I think that is one area in high demand. I think the sky is the limit, but we need to work together closely and trying to look into other possibilities as well. For example I have a small group with me coming from the creative economy, they have just met their Romanian counterparts yesterday and we can see the areas of cooperation under the creative economy and so many others.
So it is important, I think it's just like another beginning as far as Malaysia-Romania trade relation is concerned and I would like to follow up based on my fast visit to Bucharest.
And about the possibility of Malaysian companies investing in Romania and the other way around?
It should be both ways. It depends on the strength Romanian companies, but there are many Malaysian companies that are coming from the electronics sector or other sectors that should look at Romania as a new destination for investment, we should encourage that. I've been telling our investors to look for more opportunities. I can see Romania is a vast country, it's impressive to see that you have huge landmass, huge agriculture area and we are big importers of food products. I think that there are so many areas that we can explore.
In conclusion, please say what you want regarding this event and your participation at the ITUPP 2022 international conference.
First of all we hope our candidature will be well received by delegates and Malaysia gets back as a council member, because I think ITU has a very important role to play not only to improve on the universal connectivity but also to look at the ever widening digital divide that, I think, it's one of the major problem faced by the whole world. We have been told that there are still almost 3 billion people that did not get the opportunity to get connected and I think ITU has a very important role to play here, how to bridge the gap not only within member countries but also inter regional disparity. For example poorer or developing countries will be having even bigger problems as technology advances and unless poorer countries keeps the pace with the technology development then the people of that country will be deprived from the right of technology.
So I think ITU will have a great challenge to make sure all countries can get connected, all people has equal access to connectivity. As far as Malaysia is concerned, connectivity is now becoming part of human rights meaning lives can never be the same unless you are connected. All economic activities are influenced by whenever or not you have the access to good and affordable internet so it's becoming something basic like having water or electricity so it's a great challenge for ITU to get engaged with member countries and probably offer some kind of assistance to make sure that developing countries don't have and extreme disadvantage as far accessibility and opportunity to get themselves connected.
I would like to congratulate the Romanian government and agency that really put up a very well organized international conference, good hospitality and good facilities. We are very happy to be in Bucharest and are looking forward to come back again.